Uganda NHLS Laboratory Strengthening Pilot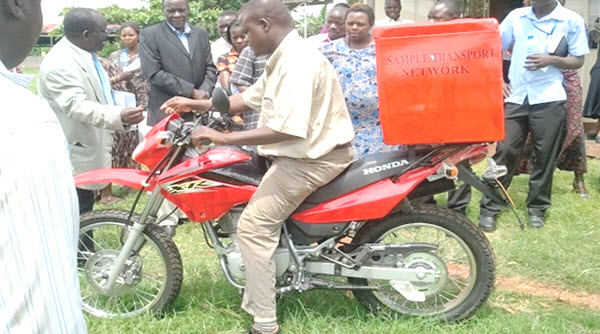 Beckman Coulter Life Science and The CARES Initiative to fight HIV/AIDS has partnered with the Uganda National Health Laboratory Service within the Ministry of Health based in Kampala Uganda. The partnership was formed to support a laboratory strengthening Pilot. The Pilot will run 12 months focusing on improving laboratory operational efficiencies within the country HIV testing centers
"Uganda NHLS has become a benchmark

success implementing and realizing

progressagainst UNAIDS 90-90-90 goals"
The Uganda National Health Laboratory Service has become a benchmark success implementing and realizing progress against UNAIDS 90-90-90 goals. Despite recognized progress, more can be achieved to improve patient health: Charles Kiyaga, National Coordinator for UNHLS and Steven Aisu, Director for UNHLS both believe continuous process improvement can transform an already successful services delivery model into a system with more inclusive coverage. Uganda has a population of 35 million and patients are served by more than 3000 laboratories throughout the country
Lean 6 sigma principles
Exceeding current standards for patient testing and care motivate The UNHLS to investigate opportunities for improvement. Beckman Coulter and Uganda UNHLS partnered to explore opportunities that represent continuous process improvement. Applying Danaher Business Systems or DBS, using lean 6 sigma principles, the two organizations held a problem solving workshop. The workshop focused on mapping current processes in Uganda and where the biggest obstacles for success prevent optimal system function.
| | |
| --- | --- |
| "Arura Hospital was selected for the pilot because of its remoteness" | |
The Pilot will emphasize four areas identified for increasing operational efficiencies throughout services sites within a designated region of the country. Arura Hospital, located in the Northwest corner of Uganda ,was selected as the Pilot center. Arura Hospital serves patients from north western Uganda, South Sudan and DR Congo. This site was selected for the Pilot because of remoteness and relative proximity to Kampala and Public Health laboratory Central Services
Testing effectiveness while minimizing patient loss to follow up.
The Pilot aims to provide greater testing effectiveness while minimizing patient loss to follow up. The target metrics will be measured daily and trended to show incremental progress. The expected outcome is that UNHLS Pilot will demonstrate improvements that favorably impact how services are delivered and support UNAIDS 90-90-90 goals. The plan is to implement the new standard work throughout Uganda HIV testing centers following completion of the 12 month Pilot.
Keep up to date on the outcome of Uganda NHLS Lab strengthening project, complete the form.